---
About The Kerry Camino: It is a local initiative to promote walking in the area, specifically along The Dingle Way between Tralee and Dingle. Walkers can pick up a free walkers pack or information leaflet from the tourist office in Tralee or Dingle. There are stamping stations along the route. the walker stamps their passport. The walker can then get a certificate at the end of there walk in the Dingle Tourist office.
link to information leaflet: KC-Leaflet-2018
Introduction/History
Borrowing elements (e.g. logbooks or passports) from the famous Camino de Santiago in Spain, the Kerry Camino is not just a great idea to encourage walking tourism, but is reviving Kerry's links with pilgrims of the past.
The Kerry Camino – walking in the footsteps of St. Brendan along the Dingle Way. During the 3 days walkers pass through rugged, mountaineous, coastal scenery, on through towns and villages, with stations along the way where logbooks can be stamped until reaching the final destination at the Spanish built Church of St. James in Dingle and receive the Certificates of Completion.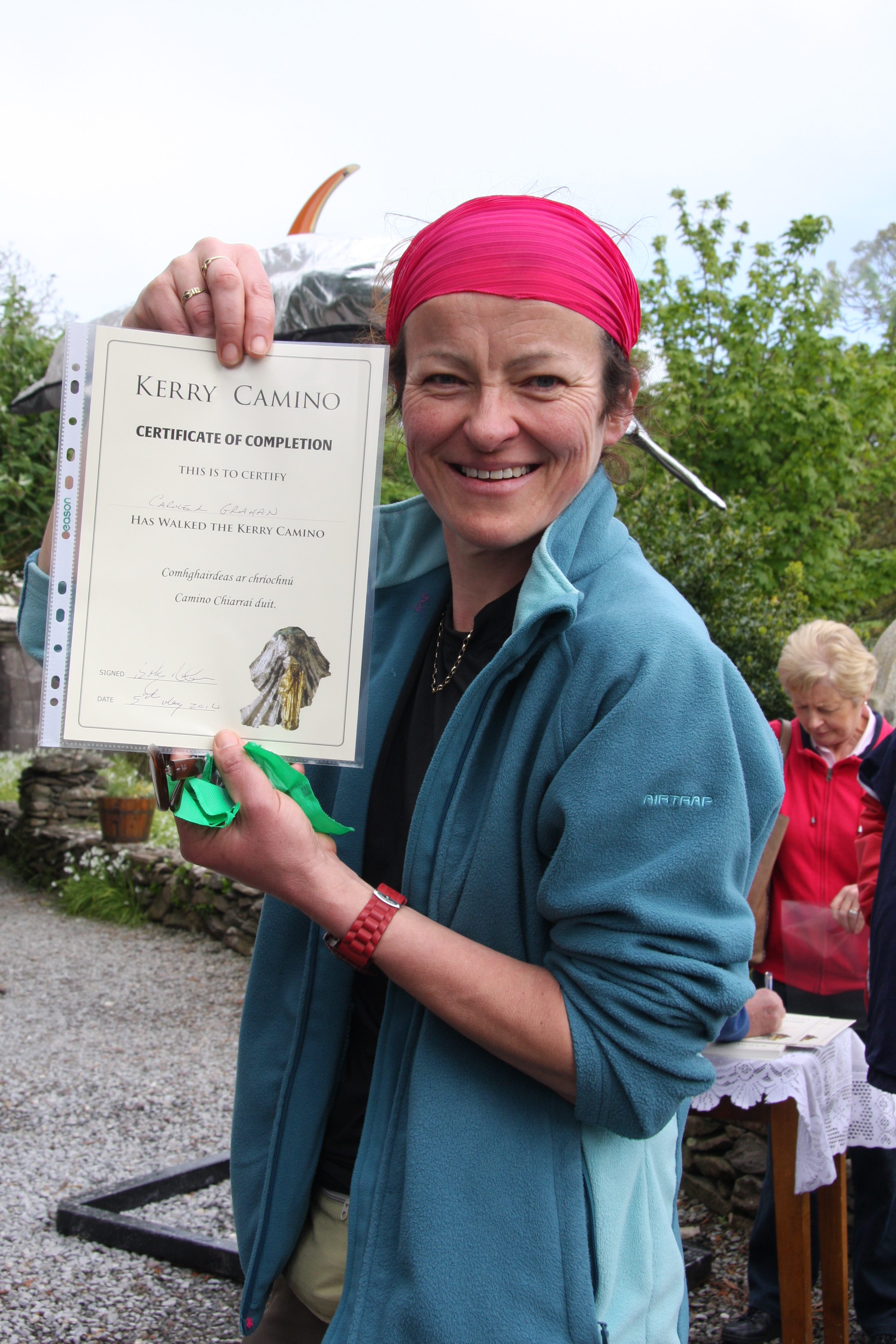 The Kerry Camino logo, which is printed on the front of our Passport, is a pewter scallop shell with a bronze-gilded statue of St. James attached and mounted on a brooch, which indicates that it was a pilgrim's badge. It was found in 1992 during an archaeological dig at the ruined Ardfert Cathedral, just north of Tralee and associated with St. Brendan, patron saint of Kerry. The artefact was found underneath the wall of a late medieval tomb at the cathedral. The shell has long been associated with St. James and, when found in a grave, suggests that the deceased person had been on a pilgrimage to the apostle's burial place in Santiago…Kerry pilgrims setting off for La Coruna from St. James Church in Dingle, others from St. James Gate in Dublin etc.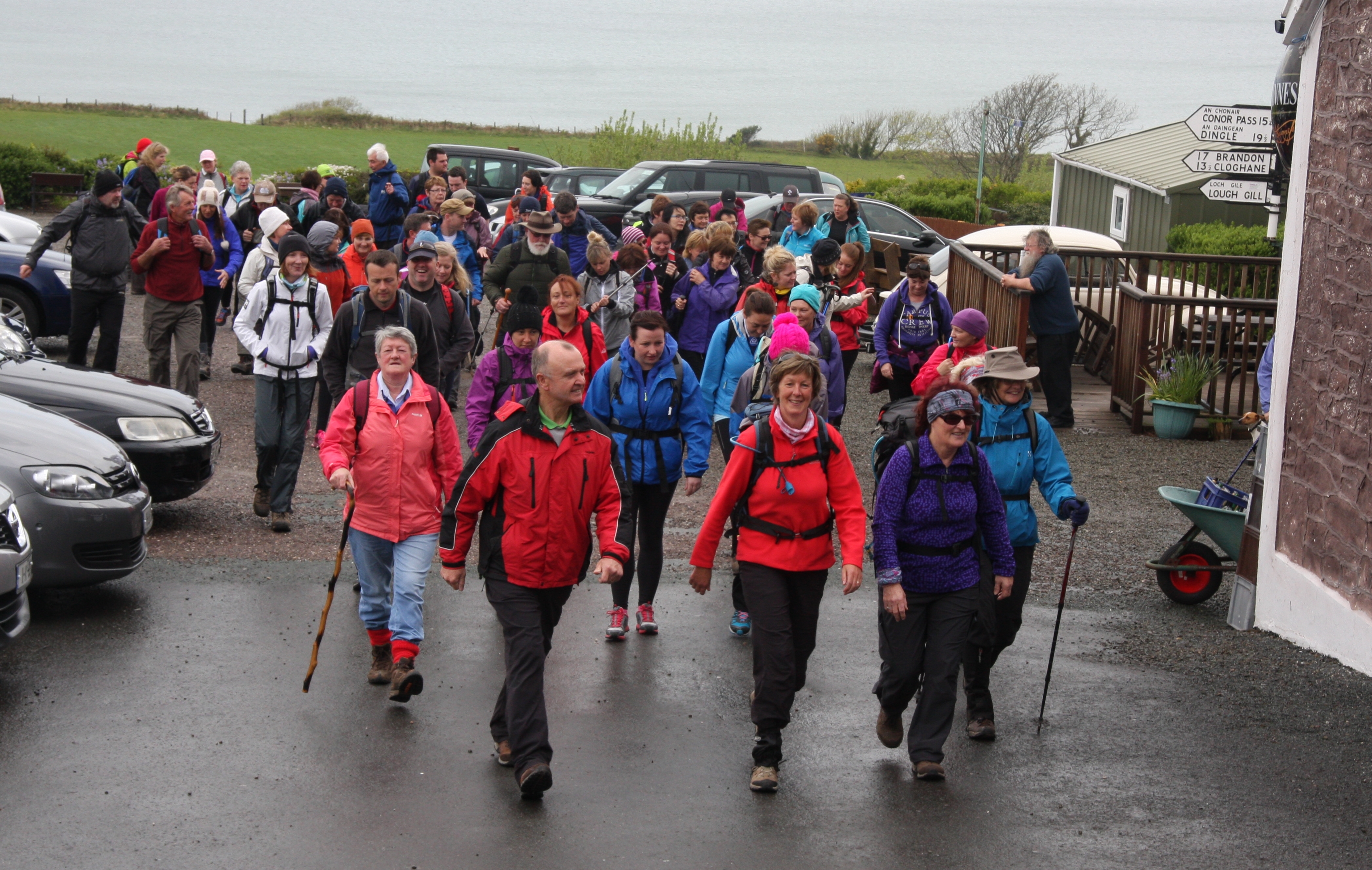 Walk Weekend
We are a group of committed local people promoting walking this beautiful part of Kerry. We encourage local pub and accommodation providers to register with us going forward. Whether you come on a pilgrimage of personal faith or renewal, or for the fun and health benefits of a good walk, we will welcome you with open arms the way St. Brendan welcomed the converts he made while on his travels.
Our launch of Kerry Camino was in June 2012 when we walked the first stage of the present route (Tralee to Camp.) A commemorative plaque was unveiled adjacent to St. Johns Church, Castle Street, Tralee, where our annual walk departs from. Numbers have been increasing steadily since then. It is held annually over 3 days of the May Bank Holiday Weekend.
Kerry Camino is both a walker's dream and a path of pilgrimage for the contemplative. A certain level of fitness is required for this 3-day event, with appropriate footwear, clothing, snacks and drinks. Each day's walking is approx. 6-7 hours.
Outside of the walk weekend, information packs/passports are available all year round from Tralee Tourist Office.
We are very grateful to volunteer members of Tralee Mountaineering Club, Tralee Civil Defence and other local walking enthusiasts who have assisted us in a guiding capacity for our walk weekends since 2012.
Additional information about Kerry Camino can be found by contacting us via email or on our website/facebook pages:
Email: info@kerrycamino.com
Facebook: www.facebook.com/KerryCamino